Sometimes the realization comes almost too late — you sense that your parents or other loved ones may soon be gone, and it dawns on you that you don't have any recent photos to remember them by . . .
When I snapped this photograph of my father, it was to show him how my new flip phone was also a camera!  This was an exciting, new technology "way back" in 2005, before smartphones were the norm.  I didn't know then how much this photo would mean to me. It was the last one I was to take of him — four days before he died.  I will cherish it always.
With the holidays nearly here, please grab the opportunities presented during visits to take photos (and/or video) of your aging loved ones, or Golden Oldies, as I prefer to call them. "It's never too late.  Even if your relatives are frail or suffering from dementia or in the hospital or a nursing home, there are still ways to capture the essence of who they were and, beneath the lines and curving spines, still are."
A recent article in The New York Times (where the quotes above are from) offers excellent advice from photographers who specialize in shooting photos of senior citizens at their best.
Photography How-to's
1.  Help your loved one get dressed for the occasion.  Even if they are in a hospital gown, you can cover them with a shawl or favorite sweater to add a personal touch. Women will likely be happier if you apply a little make up and do their hair.
2.  Shoot in a cozy room of their home (or yours) where they will feel at ease, or at least sitting in a comfortable position.  If they're in a hospital, try to catch them when the hospital staff is changing the bed linens; they often move patients to a nearby chair.  Laying down is not an optimal position for anyone!
3. Create a relaxed atmosphere.  Play some of their favorite music.  Have family or friends converse with them.  Hand them something to prompt their memories — special objects may prompt reminiscing, even with dementia patients. Ask simple questions that play to their strengths, such as, "What was your favorite game as a child?"
4. Don't use the flash. The bright light is annoying, and the harsh light makes everybody look worse. Try to position your Golden Oldies in natural light near a window or take them outdoors if possible.  As photographer, you should position yourself with your back to the light source, and have your subjects facing it. And don't be afraid to use the zoom on your camera!
5.  Be sensitive to what's in the background.  If they're in a hospital or skilled nursing facility, the machines and tubes surrounding their bed can be eliminated by zooming in on the person's face (see #4 above).
6.  Take lots and lots of shots  — especially now that we live in a digital world and don't have to pay for printing them all!  The article suggests a photo shoot shouldn't last longer than 10 minutes, unless your Golden Oldie is busy chatting with people and forgets that you're there shooting away!  If so, keep going. I love candids!
It Goes Beyond Photography Though . . . .
The most important tip is the one at the end of the article:
Use these photo sessions as a chance to connect. When you ask questions about your loved ones' past, you're not just getting them to look lively. You're opening up an opportunity to discover things you may have never known.

For those whose relationship with a parent may have been awkward or troubled, examining the parent through a camera lens — instead of through the eyes of a vulnerable child — can provide the distance that, paradoxically, can bring you closer.
And remember, you don't have to be a professional photographer to snap a meaningful photo. Even though the photo of my father isn't the sharpest, nor does it have the prettiest background, it will always be beautiful to me.
Don't miss your chance to take treasured photos of your Golden Oldies during the next six weeks!
Happy Thanksgiving from Linda Abbit and Tender Loving Eldercare to you and yours! I am very grateful you choose to spend your time reading the thoughts I wish to share!  
This book is so much more than a book!  It's a comprehensive guide and workbook for people who have recently lost a loved one, and don't know where to start in the maze of notifications and paperwork that need to be done after a death.
Begin Here was created by Kat Reed after she and her father went through the process of managing her mother's affairs.  She translated their personal experience into this wonderful resource guide.  And it's obvious much thought and care went into every detail of its production.
The layout is logical and systematic — in a clear format that those who are grieving can easily navigate.  Some of the chapters include:  Decedent (for vital statistics), Residence, Financial, Legal, and Support System.
There are checklists, suggested action steps, and resources within each section for survivors to work through step-by-step after a death.  The chapters are short, which will keep a grieving person from getting overwhelmed.  And as a survivor works through these topics at their own pace, all of the important items to do in this difficult situation are covered.
There are several excellent, detailed telephone scripts which can be found both in the book and online at Reed's website, HelpingSurvivorsManage.com.  Survivors can use these scripts for notifications of death by phone or mail. Wisely, these scripts are stored loosely in a pocket of the book, so they can be easily removed, copied and reused as many times as necessary. This attention to detail demonstrates again the forethought and planning Reed used in creating this toolkit.
Death and dying is often not discussed by families in our society.  No one prepares us for this part of life!  Begin Here truly is a lifeline for those who don't know where to begin. It makes a thoughtful condolence gift for friends, neighbors or family members.  Eldercare facilities, hospice companies, hospitals, and funeral homes would be wise to provide these for their clients.
Click here for details on where to find and how to purchase this valuable guide.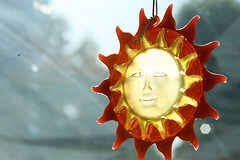 Summer began about ten days ago in the U.S., and many areas are already experiencing severe heat waves. According to the American Red Cross, excessive heat has caused more deaths than all other weather events in recent years.
Senior citizens (or Golden Oldies as I prefer to call them) are more vulnerable to dehydration, heat exhaustion and heat stroke.  Please check on them (in person if you live nearby) and review the steps below to keep them safe when the temperatures rise.  You may think they already know and follow these practices, but you may be surprised, as Gary was.
Here is his story . . . .
Gary had lunch with his 83-year-old mother last week.  He knew she had become more frail over the past year, but her memory was still sharp.  It was a hot day out so when they returned to her apartment after lunch, he turned the air conditioner on to cool off her home.  The a/c unit has an automatic on-off switch, and it shut off in just a few minutes.   He pushed the switch so the air conditioner re-started and was blowing cool air.  It stopped again very shortly.  His mother asked, "Is it normal for it to go off so soon?"  Gary agreed it wasn't and took a closer look at the dials.  He realized his mother had it set for the winter, when she didn't want the air conditioner running at all.  She hadn't yet changed the settings for the warmer summer weather.
Gary said to me, "I never would have dreamed I'd be explaining to my mother how to use her own air conditioner!  I guess her memory isn't as good as I thought it was."
He took extra time to explain the settings again to her, and made a mental note to himself to (a) double check the settings next time he's there, (b) write down the settings and how-to's about the air conditioner unit on paper to give to his mother for future reference, and (c) write a reminder on his calendar to be sure he does the same each year, as well as for the heater when the weather turns cold.
Gary recognizes his mother needs more reminders and closer supervision in her home environment.  Be seeing her that day for lunch, he likely prevented days of her living in uncomfortable, if not dangerous, temperatures, since she didn't remember how to set the air conditioner to keep her apartment at a comfortable (and safe) temperature.  Like many Golden Oldies, she probably would not have called Gary to ask about the air conditioner not cooling properly! Per Gary, one of her favorite expressions is, "I didn't want to bother you, Dear!"
Preventive Steps to Take
Here are more preventive steps to review with your Golden Oldies to be sure they stay safe and comfortable during the summer heat:
Along with the air conditioning system, check that any free-standing fans in their homes are in good working order (including the cords) and in a place where the fans won't fall and the electric (and/or extension) cords won't trip anyone walking nearby.  If there is no air conditioning at home, consider visiting places like libraries, movie theaters and shopping malls that have it on scorcher days.
Drink greater quantities of water throughout the day to avoid dehydration.  Caffeine and alcoholic drinks do not count as water, and can accelerate dehydration. Some doctors suggest sports drinks (for example, Gatorade, Powerade) in addition to water, to replace minerals lost through sweating.
Some medications can slow down the body's natural capacity to control body temperature, so ask their doctor if any of the medications they take could cause this side effect and what they should do to avoid problems.
Take it slow.  The faster you move, the faster your body heats up.  Any outdoor activities should be planned for early morning when it is cooler.  When going out, wear hats and light-colored clothing, preferably made of a cool fabric, such as cotton.  Avoid direct sun as much as possible and use sunscreen with an SPF of 30+.  Even when it seems to be a cloudy day, the UV rays are coming through.
Heat Health Issues and Symptoms to Look For
Dehydration can cause dry, sticky mouth, thirst, irritability or confusion, few or no tears when crying, lack of sweating and urination (urine that is produced will be dark yellow or amber), sunken eyes, shriveled and dry skin that lacks elasticity, low blood pressure, rapid heartbeat and breathing, dizziness or lightheadedness, or headaches.
Heat exhaustion symptoms to be aware of include mild nausea, lightheadedness, vomiting, clammy or cold hands, and excessive sweating.
Heat stroke can be deadly and symptoms include fainting, irregular pulse, body temperature above 104 degrees F, hot and dry flushed skin, mental confusion, ill-temperament, or staggering.
Take your aging parent, relative or neighbor to the nearest hospital emergency room or call 911 immediately if these symptoms are evident as they will need medical attention.  If in doubt, err on the side of caution!
It is possible to keep our Golden Oldies safe and healthy this summer by being aware and involved in their lives.  Attentive visits will go a long way in preventing heat-related health issues.
If you have other suggestions to keep Golden Oldies safe in high heat conditions, please write them in the Comments section below. We appreciate your ideas!
Photo Credit:  Living in Monrovia on flickr
Last year my friend, Bob Watson, mentioned in passing that his 85-year-old mother made a tandem parachute jump for the first time in her life.  I was fascinated and inspired by this brave act because, based on what I've observed, as people age they often become more cautious in their actions.   Geraldine Watson is a great example of someone who can inspire us all to live our lives to the fullest every day.
Her tandem jump also made me wonder whether people are born daredevils, or do their life experiences lead them to a "devil-may-care" way of thinking. After reading my interview with Geraldine, what do you think — are daredevils born or made?  Do you know any seniors (or Golden Oldies as I prefer to call them) who've retained a fearless attitude as they've aged?
TLeC: When and where did you jump?
Geraldine: It was in San Diego from a company called Skydive San Diego, on May 16, 2011, on what would have been my 58th wedding anniversary.   It was a Mother's Day gift from my children.  It was on my bucket list.  When I saw Jack Nicholson and Morgan Freeman jump out of a plane in the movie, The Bucket List, I figured if they could do it, why couldn't I?
So you started a bucket list after seeing the movie.  Is it actually written down or just in your head?
In my head.
The jump was from 13,000 feet, is that correct?
Actually the jump was 10,500 feet. But then I found out you could go for 13,000 so I said I will go for the 13,000 feet. I think I paid $65 extra.  If you're going up, do it right.
Were you worried or nervous at all? 
I wasn't scared at all.
Absolutely not. I mean it didn't even occur to me.  I was enjoying the ride in the plane. I was enjoying it all. I don't know if in the video you could see my lips. I was talking constantly.
How much instruction do they give you beforehand?
Oh, the instruction is for the birds. Here I am listening very intently, so I'm not going to miss anything.  It was like sitting there for 12 minutes, something like that. I thought it was a waste of time.  I felt like, "Let's get on with the show." And there was so much noise and people were yakking around and coming and going.  They should have it in a quiet room and they didn't have a person talking to you. You were watching .  . .  just the video. That's all the instruction was, just the video.
What did you wear for the jump — a flight suit of some kind? A helmet?
If you don't want to wear the suit, you don't have to.  You can go in your shorts if you wanted to. But I said, "No, no, no. I want to wear the suit."  And you wear a pair of goggles over your glasses.
They do not tell you to remove your jewelry.  But  Bob told me a week ahead of time, "Don't wear your jewelry." And I said I wouldn't wear any.
I wore jeans as I recall and then I wore a hoodie, a sweatshirt.  When you're up 13,000 feet, it's cold!
What did you think about when you were going up on the plane? When you landed? What thoughts went through your head? Or were you just taking it all in? 
I wanted to go. I wanted to experience the thrill of a lifetime and I wanted to show my husband, Bob, I could do it.  And I wanted to wish him a happy anniversary! When I landed I laughed and went, "Happy anniversary, Bob!"
I think he was there with you.
Yes. I know it.
Were you able to talk to JC, the instructor you jumped with? Were you able to talk? Was there a walkie-talkie or anything to help you hear him?
No. But I remember I said to him in the plane,"My brother told me to yell, 'Geronimo!' to shout, 'Geronimo!' when I step out. So don't let me forget."
And they did say, "Face the camera, face the videographer. So, hold your head up.  And I'm going to push you out." (laughs)  I'm not going to fool around with turning my head and look at the videographer!
A split second or two passed and finally I said, "Geronimo!" and I wasn't sure so I said, "Geronimo!" again and, of course, it was too late to get it on the video.
How fast were you going?
Up to 120 miles per hour.  And when you're going down – and I didn't know that we were going to go around and around and around so that was really cool.  I think we went clockwise.  And all of a sudden, the parachute opens . . .  And you zoom up!  That was the best part!  Yes, it's like you could – you're touching the hand of God. That's exactly what it felt like to me.
From the video, it looked like a really clear sunny day. What did you see?
It was a beautiful, sunny day. It was the best day I could have chosen and it felt like I was just floating. Not going fast at all.
Wow! Is it like being on an airplane?  You know you're going really fast but it feels really slow when you're on a plane and you're on the inside looking out. You know in your mind though that the plane is going super fast.
Oh, yes, yes, yes. You're out there in the air. You're going like a bat out of out of hell.  Your hair is blowing like crazy.  I didn't care.
What do you see? Do you see the coast? Do you see the ocean? The mountains?
I could hear JC saying to me, "Over there," and he would point out the sites, like he said, "Tijuana." Well, I didn't care what's over there . . . it was all beautiful! He's shouting in my ear. We didn't have earphones or anything. He's shouting right here . . . His head is right here next to mine.
Was it  a weird feeling to have somebody attached to you or you being attached to somebody? Did it feel strange?
No. I didn't even notice it.  Actually it was kind of nice because he's protecting me.
Did they attach you to JC in the plane? When you first get on the plane? Is that where you get attached?
Let's see. When do they do that? No, you're walking to the plane and then you sit down and he attaches to you before you take off.
And you're sitting in the seat like this. And he's behind me.  And then he just shoves the seat up and he says, "OK, we're going to go."
How long is the whole experience? How long were you in the air?
I think the jump was eight minutes. That's what I'm told. I just enjoyed the whole ride.
Would you do it again?
I definitely would do it again, but I would rather use that money to go to Paris or make day trips with the Senior Travelers or go out to dinner a couple of times. There are other things that I haven't done. Other places I haven't been.
On to the next thing?
Yes, that's the way I feel.
Below is a video taken by her son, Bob, of Gerri heading off to the plane.  
If you have any trouble viewing it, please click here.
So were you always a daredevil, Geraldine?  Were you a risk taker all through your life?
if there was a chance to do anything crazy, I would do it.  But nothing like this, never had the opportunity . . . .
When I was a kid, I can remember . . . This is crazy. I can imagine I would kill somebody if they did it to me.
We lived on a street – it's a little town, 4,000 population at that time. Cars used to go back and forth in front of our house all the time. We were right there, just a sidewalk between the street and our house and I would have to cross the street to go to school and go uptown.
And I can remember very, very clearly when there was a car coming and I deliberately would run across the street as close as possible in front of the car coming.  I was eight or ten years old at the time.
I was a brat, I guess. I can imagine what that must have done to the driver, but I didn't mean to be mean. I just wanted to see how close I could get.
If somebody did that to me when I was driving, I'd stop the car, pick up that kid, take him home and say to the parents,  "Do something about your child."
I think I'm very much like one of my older brothers. There's a 13-month difference and Gene used to do crazy things.
Do you have any other stories about being a daredevil you'd like to share?
When I was about eight, we had a rope swing and I guess we had a plank of wood for the seat, the kids. We all made it. We hung it on a branch of the tree in the backyard and we used to swing on that thing and go as high as we could, or I could anyway. So that we were almost level. It was almost level.
If you went any higher, you would go completely overhead.
Did you ever do that — go all the way over?
No, but I went as high as I could possibly go though without flipping over or falling off.
In those days it was a large family and it was Depression time. And the world was at war. It was pre-war for us and things were tough. My father pinched pennies. And so we didn't have toys.
We made our own fun. We were dirt-poor but we didn't know it because we were happy.
Anything else you want to add, Geraldine?
I certainly suggest if you're adventurous, to do it.
Thank you, Gerri. This was great fun hearing all about your adventure.  You are definitely braver than I am!  Thanks for inspiring all of us to get out there and embrace life to the fullest!
This is the one question I hear most frequently from baby boomers caring for their aging parents, and I wish there was a "one size fits all" answer for it.
All of our aging parents (or Golden Oldies as I prefer to call them) decline in various ways and at different rates, but here are some guidelines to help you decide if it is time to take steps to move mom and dad out of their long-time home into an assisted living environment.
Physical Safety First
This is the most critical benchmark to apply.  It's a simple question to ask yourself, "Are he/she/they safe living at home alone?"
Would they know what to do in case of an emergency?  And would they be capable of taking those actions?
If they fell anywhere in their home, do they wear a call button to push for help?  Will they remember to do so, and how to, if they panic?
If they are a married couple, would they hear their spouse calling for help from another room of the house?  Are they strong enough, mentally and physically, to help the other one in an emergency (i.e., a fall)?
If there's a natural disaster (i.e., earthquake, hurricane, or tornado), would they know what to do during and after to survive if help doesn't arrive quickly?
Are they a continuing fall risk?
Are They Potential Targets of Scammers?
Would they give out personal information over the telephone to a stranger?  Can they hear well enough on the phone to identify who they're speaking with?
Would they open their front door to strangers or solicitors?
Are they comfortably in control of their finances and doing their own banking successfully? Are their bills getting paid on time? Have their been any irregularities with their bank accounts or credit cards?
If they use a computer, are they savvy enough to be aware of and avoid online schemes and scammers?
Are they hard of hearing or is their vision declining? These factors could increase their vulnerability.
Warning Signs in their Day to Day Living
In a previous blog post I created a detailed list of things to pay attention to when visiting your parents, whether you live nearby or far away.  You don't have to pepper them with questions to figure out if they're doing fine on a day-to-day basis.  Just walk through their home and observe whether these warning signs of decline are evident.  Try your best to really be objective — it's hard to admit to ourselves when our parents may be declining.
What's Next?
Based on your honest answers to these questions, if there is any doubt in your mind that your aging parents are no longer secure in their present homes, now is the time to start researching assisted living facilities. It's best to be proactive rather than reactive on this issue, to avoid having to find a place for them quickly in case of emergency.  Even if they're not ready to look into alternative living arrangements themselves, as their adult children and caregivers it would be wise to begin touring potential new residences.  You won't be sorry you did.
Have you been through the process of moving your aging parents?  How did you know it was time for them to make the transition? Please leave your experiences in the Comment section below.  Through your story, you may be helping another family. Thanks!
You may think this will be a depressing read because it mentions death, but it's actually life-enriching!  These ideas apply to all of us, whether we're past, current or future family caregivers or care recipients.
Earlier this month I read an article at AARP.org by Bronnie Ware that really resonated with me. Ware is a hospice team member, whose patients were people who had gone home to die. She was with them for the last three to 12 weeks of their lives.
"People grow a lot when they are faced with their own mortality.  I learned never to underestimate someone's capacity for growth. Some changes were phenomenal . . . every single patient found peace before departing. Every one of them.

When questioned about any regrets they had or anything they would do differently, common themes surfaced."
Here are the most common themes and part of Ware's commentary on each:
I wish I'd had the courage to live a life true to myself, not the life others expected of me.  
This was the most common regret of all. When people realize that their life is almost over and look back clearly on it, it is easy to see how many dreams have gone unfulfilled . . . It's important to try to honor at least some of your dreams along the way. It's too late once you lose your health. Health brings a freedom very few realize, until they no longer have it.
I wish I didn't work so hard.  
All of the men I nursed deeply regretted spending so much of their lives on the treadmill of a work existence. By simplifying your lifestyle and making conscious choices along the way, it is possible to not need the income that you think you do.
I wish I'd had the courage to express my feelings.  
Many people suppressed their feelings in order to keep peace with others. As a result, they
settled for a mediocre existence . . . although people may initially react when you change the way you are by speaking honestly, in the end it raises the relationship to a whole new and healthier level.
I wish I had stayed in touch with my friends.  
Many had become so caught up in their own lives that they had let golden friendships slip by over the years.  There were many deep regrets about not giving friendships the time and effort they deserved.
I wish that I had let myself be happier.  
Many did not realize until the end that happiness is a choice. They had stayed stuck in old patterns and habits. The so-called "comfort" of familiarity overflowed into their emotions, as well as their physical lives. Fear of change had them pretending to others, and to themselves, that they were content . . . How wonderful to be able to let go and smile again, long before you are dying.
I really love Ware's last line in this article:
Life is a choice.  It is your life.  Choose consciously, choose wisely and choose honestly.  Choose happiness.
Which of the above thoughts hits closest to home for you?
What actions will you take today to create a richer, more meaningful life before it's too late?  Please share your ideas in the comment section below!
You can read the full article online by clicking here.
I'm so happy to share this exciting news with my wonderful Tender Loving Eldercare community!
I have been nominated in the SeniorHomes.com Best of the Web 2012 contest in the "Social Media Rockstars – Individuals" category. The Best of the Web 2012 contest highlights the best senior living and caregiving websites, blogs, and resources on the web for consumers and senior living professionals.  
I am honored to be nominated — I've been smiling from ear to ear since I found out.  I rather like thinking of myself as a Rockstar, even if I am really a middle-aged Baby Boomer!  And I can't help wondering what our 22 year old son thinks of the Rockstar moniker! 😉
I Need Your Vote!
If you have a profile on either facebook or Google Plus, I need your vote by March 2, 2012 in order to make the finals.  As I write this, I am currently in 3rd place, 11 votes behind the leader.  If you have a profile on either facebook or Google Plus, this is how you can help me win. It will take you less than five minutes to complete — promise!
Voting Instructions Are Here and Easy to Do!
Finalists are determined by popular vote (the combined total of facebook Likes & Google +1's). My category is the only one that is decided purely by popular vote, and not by judges. So your vote really matters! If I reach the finals, I will keep asking for votes until the contest ends on March 12, 2012.
If you haven't seen my facebook page yet . . . would you be so kind as to look at the Tender Loving Eldercare facebook page now?  And if you think this blog or facebook fan page are worthy, please vote for me by clicking here. You can even vote for me twice, once by a Like and once by a +1 if you're present on Google Plus. That's allowed via the rules . . . and encouraged by me. 😉
When you arrive on my voting page, you will see a large light grey box at the top of the page that says in the middle of it "Vote by clicking LIKE and +1 above."
All you need to do then is click on the little blue "Like" word within the grey box and/or the little "+1" symbol next to it within the grey box.  That's it!
Thank you SO VERY MUCH in advance for your vote!  I will keep you updated as the contest continues.
Win or lose, my goal is to keep sharing pertinent information and inspirational messages with you (and your Golden Oldies) to help you on your caregiving journeys!
Thanks again!
Your Middle-aged Social Media Rockstar, 🙂
Linda
I went to see this movie expecting to learn more about British Prime Minister Margaret Thatcher's life story, with the emphasis on her place in British history and politics.  I knew she must be a unique person to have achieved the position of Britain's only female Prime Minister to date.  What I didn't know I would also see was the intimate portrayal by Meryl Streep of Thatcher as a now elderly woman living with early memory loss.  The depiction of that part of her life story is more important and touching than what we can read about in history books and newspapers.
While we can't actually know what dementia is like unless we also have memory loss, I believe Meryl Streep's portrayal of the disease must be close to accurate.  I don't recall any movie I've seen that shows dementia from the point of view of the patient, from the inside looking out.  We feel Thatcher's sense of confusion as she drifts from her present reality to memories throughout her life, of happy times with her husband, Denis, and their two children.
I believe dementia patients live with a huge amount of fear.  Imagine if your everyday surroundings were no more — if your familiar home came and went from day to day, or hour to hour?  If you had no sense of security in your environment?  If you no longer could recognize those that are with you every day?! We feel her fear, which manifests itself in paranoia as she "spies" on her household staff that seem to be talking about her when she's not in the room.
We understand Thatcher's loneliness through the flashbacks with her husband and children.  The deep loss she lives with after the death of her husband, Denis, is shown as she carries on imaginary conversations with him repeatedly.  And the reluctance but resolve to accomplish the challenging feat of going through her late husband's belongings is portrayed realistically. Doing that task has got to be incredibly difficult, emotionally and physically, especially for an older person who was deeply in love with their spouse.
Thatcher hallucinates a lot in this movie.  While that is a possible symptom of dementia, I think the frequency of them in the movie is partially the director's way of story narration. The conversations and vignettes with Denis add depth to the story, and seem to be a combination of hallucinations and memories.
I was touched by how Streep shows the "Iron Lady" is also a frail elderly woman, or Golden Oldie as I prefer to call them.  There is one scene  that also demonstrates how many senior citizens are "invisible" to society.  Thatcher manages to slip out alone from her home to go to the grocery store, and no one recognizes her as the powerful Prime Minister she once was — she is simply an "old woman" buying milk in the grocery store.  She could be anyone's grandmother as she is jostled slightly while waiting her turn to pay, and then walking carefully outside on the street back to her home.
Other aspects of the film are how her children treat the aging Prime Minister and the depiction of a family caregiver.  Thatcher's son, Mark, lives in South Africa with his family during the time of the movie and is not present in the movie except by phone and in flashbacks.  Her daughter, Carol, takes on the role as her primary caregiver.  Carol helps her mother with day-to-day activities, coordinates care with Thatcher's house staff, takes her to her doctor's appointments, protects her frailty and dignity, and is clearly worried about her mental decline. While we sense Carol's frustration as she has to take on the parental role, for the most part, she doesn't let her mother see the angst she feels. She is a good overall role model for other designated daughters and sons seeing this movie.  One sibling acting as primary caregiver is often the norm these days with families living spread out throughout the globe.
Did you see this movie?  How realistic did you find Streep's portrayal of a once-strong woman now in her 80's with evidence of dementia setting in?  Please share your comments below.
_____________________________________________
Photo Credit:  Axel Schwenke's photostream 
Today is Groundhog Day in the United States and Canada. Along with the famous groundhog, Punxsutawney Phil, I'm coming out of hibernation, too!
While I haven't written here for over a month, my mind's been whirring with ideas and I've been busy planning new, additional features for Tender Loving Eldercare (TLeC).
Why? It all began because . . .
I Became a Caregiver Again
Back in November, my son, age 22, had wrist surgery and I was his full time caregiver for one week post-surgery.  From this experience, I was reminded of some prior, and gained new, perspectives about caregiving:
Care recipients are people of all ages, with many different physical, cognitive and/or emotional problems.  While my hands-on caregiving experience until November had been with my elderly parents, there are many caregivers lovingly helping people of all ages, with varying levels of health, and in different living arrangements.
Not all caregiving is long-term.  Some caregivers only serve for short periods of time, and their daily work can vary from mild to very intense care.
We are also "caregivers" to our pets as they age.
Caregivers are champions of practicing thoughtfulness.
How Did My New Caregiving Experience Impact Tender Loving Eldercare?
After an 18-hour day caring for my son, I'd go back to my hotel room and collapse, both physically and mentally.  I needed to unwind in a big way.  I needed to re-charge my batteries quickly, get some sleep and be refreshed before my alarm went off before dawn the next morning.
I needed a quick fix of inspiration or motivation, either before bed or when I first awoke in the morning.  I realize ALL types of caregivers need that OOMPH to help get them through a long, challenging day!  So, while I will continue to write informative, how-to posts about caregiving, I'm expanding my role to become a Caregiver Cheerleader for our TLeC community!  No matter what type of caregiving you're doing, I hope a dose of positivity wil help you on your journey.
How I Will Accomplish This New Goal? 
There will be more posts about inspiration and motivation. I will also bring back the popular Friday Funnies, as laughter is always better than tears.
We will present more positive thinking strategies for caregivers to use.  (And even if you're not a caregiver currently,  won't you enjoy some positive thinking tips?)
I will highlight more "Golden Oldies" stories, because my passion for the older generation has not waned.  As a society we need to recognize and celebrate their accomplishments and wisdom.  This will also include the portrayal of elders in the media and the arts, both pro and con.
Because we are all bombarded with mobile technology and social media, I will also focus more on how technology can aid caregivers, care recipients and their families.
If You Are Already On TLeC's Email Subscriber List
I will be emailing you about special reports and guides I am writing to help you on your caregiving journey, with early-bird notification before they become available for purchase elsewhere.
If you're not already on the TLeC email subscriber list, you may want to join now by filling out the brief form found in the top right hand corner of this page, under the words "Caregiving Guide — It's Free."  When you sign up, you instantly receive the free report about five important caregiving lessons I learned, as a thank you gift for joining our community. You may unsubscribe from this list at any time, and I totally respect and guard your email privacy.
Last But Not Least
If you know any other caregivers who might use even a little bit of  inspiration or motivation, please share Tender Loving Eldercare with them.  If you have any other topics you'd like me to cover, please feel free to write them in the Comments section below.
Thank you and I hope you are as excited as I am about the new additions to come!
Now . . . I wonder if Punxsutawney Phil sees his shadow or not?  🙂
________________________________________
Photo Credit:  tachyondecay's photostream
We are really advocates of just getting as happy as you can be—which takes care of everything.

Even if you don't have reason to be happy—make it up. Fantasize it. Make a decision that you're going to be happy one way or another—no matter what.

"No matter what, I'm going to be happy! If I have to ignore everybody; if I have to never watch television again; if I have to never pick up a newspaper again, I'm going to be happy.

If I never have to see that person's face again, I'm going to be happy. If I have to see that person's face, I'm going to find something to see in that person's face that makes me happy.

I'm going to be happy. I'm going to be happy. I'm going to be happy."

~~ Abraham
SEASON'S GREETINGS TO MY WONDERFUL TLeC COMMUNITY AND ALL THE BEST TO YOU & YOURS IN THE NEW YEAR!